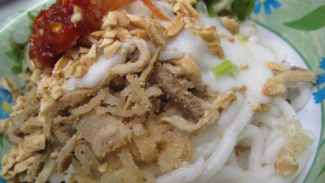 If Hanoian or northern Vietnamese cuisine is ever elevated with the addition of that special tangy chili sauce, southern dishes are allowed to be the best version of themselves with coconut milk.Touted as "the rice bowl of Vietnam," the Mekong Delta's abundance of rice paddies and varieties has given rise to a complex repertoire of rice-based bánh (it means not only cake also noodle) that are too good to miss: bánh bèo, bánh ít trần, bánh đúc and bánh tằm bì. The latter, bánh tằm bì, is at the precarious junction between sweet and savory, and an epitome of southern cuisine that lionizes rice noodles and coconut milk.
The protein component of the dish is a mix of lean pork, julienned pig skin (bì) and thính, a fragrant powder made of toasted golden rice. Frequent eaters of cơm tấm might recognize these bundles of chewy bì from their morning chow.
Bánh tầm bì noodles are big in Mekong Delta. If you enjoy the sweet flavor of coconut milk cream and the freshness of herbs and noodles, you'll love this southern Vietnamese dish.