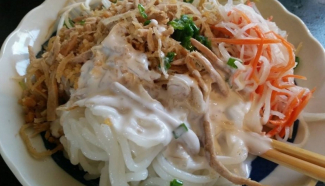 Bánh tầm bì noodles normally are served with thick rice noodles and with a layer of fresh herbs (Thai basil, spearmint, Vietnamese coriander, etc), some cucumber, pork;usually lean pieces of meat and some strings of pork skin, pickled carrot and daikon, and some thick coconut cream smothered on top.
You will get the best kind of thick noodles for Bánh tầm bì in a coastal province Bac Lieu of Mekong Delta, where the dish originated, for it is handmade rice noodles.
While the noodles in other Vietnamese noodled dishes like bún riêu, bún bò Huế or bánh canh can be made with machines, bánh tằm is best when the strands are handmade and irregularly shaped.
Read more