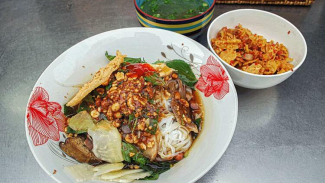 For a project I traveled to Lang Son in northern Vietnam and had chance to try Phở chua, the sour Phở. This is a traditional Vietnamese phở variety but not very known by most of the people in southern regions of the country. The are many versions of this noodle soup which usually contains six key ingredients – pink rice noodles, peanuts, pickles, soy sauce, sour pickle liquid, and Northern sauce. The dry version consists of two components – dry ingredients and the broth, with the dry ingredients including noodles, sliced and fried potatoes, pig's liver, and roasted duck meat, while the broth is made from garlic, vinegar, and sugar.
Originally sour Phở is from China introduced into Vietnam by the minorities in mountain regions in northern Vietnam. Very well known are sour Phở of Lang Son and Ha Giang provinces.
All versions of sour Phở are popular in Northern Vietnam, and the dish is garnished with fresh herbs, fried shallots, or crushed peanuts before serving. Sour phở is usually prepared and served during summer and autumn, and it's often prepared for special guests and visitors.