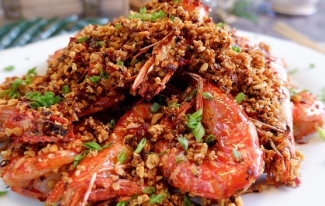 Typhoon Shelter Fried Shrimp (港色避風塘炒蝦) is a Chinese "fisherman's" dish back in Hong Kong's fishing-village-era, of hot-woking fried shrimps, prawns or crabs together with a crazy boat-load of fried garlics (twice the amount of shrimp for fried garlic !) and chilis.
Typhoon Shelter cooking style is said to be originated from Hong Kong. As the name goes, typhoon shelters – shelters for fishing boats during typhoons, where the fishermen stay during typhoons, and when they cook with mightbe with only a few, remaining ingredients they still have.
There is a few method of cooking this dish, some deep fry all the ingredient together in one go, some uses steaming method to cook their seafood, crabs, prawn.
Read more