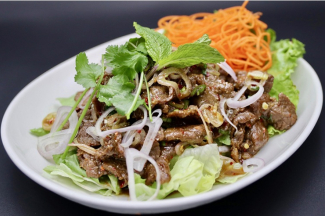 This wonderful beef salad known as nam tok, or waterfall beef. This grilled beef salad is very similar to larb, however the meat is not minced, or finely chopped. Grilled steak is the main ingredient and is a bit more wet in terms of a dressing.
Nam tok (น้ำตก) is the Thai word for waterfall, and neau (เนื้อ) means beef. Together the literal translation is Thai waterfall beef, or beef waterfall. In reality, it's just a name. Like a hot dog.
This salad is just loaded with awesome flavor, as is larb, is has that great balance of spice, and textures. And Thai people say they want a salad, they generally don't mean lettuce, carrots, and croutons in a creamy dressing. Salads in Thailand are more commonly composed of raw vegetables, herbs, and meat in a light, refreshing dressing of sugar, chili and lime juice.  
Read more