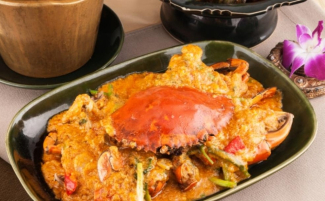 Thai crab curry is a popular crab dish characterized by a rich flavor and incredibly pleasant consistency. This yummy recipe embodies the tradition of Thai cuisine.
The origin of this famous dish Boo Paht Pong Karee dates back to 1969 when the Somboon Seafood restaurant introduced it to local diners.
In Thailand, this dish is most commonly cooked with entire sections of crab in the shell. Almost every recipe for this classic Thai dish adds oyster sauce, nam prik pao, white pepper, egg, fresh chilies and Chinese celery. Unlike other Thai dishes, fried curry crab is more sweet than spicy. It often uses red curry paste cooked with coconut milk and a blend of herbs and spices.
Read more
Ingredients
3 large crabs (legs & claws removed and cut into big pieces)
1 cup of crab meat
1 tablespoon of chopped garlic
¼ cup of sliced onion
¼ cup of red pepper
¼ cup of scallion (cut in 1 inch pieces)
¼ cup of celery (cut in small pieces)
2 eggs (beaten)
1 teaspoon of curry powder
1 tablespoon of oyster sauce
1 tablespoon of thin soy sauce
1 teaspoon of sugar
2 tablespoons of vegetable oil
3 tablespoons of water
¼ teaspoon of ground pepper
How to cook
In a small bowl, add thin soy sauce, oyster sauce, sugar, ground pepper and water. Combine well together.
• In a large skillet, add vegetable oil over medium heat. Wait for 1 minute to warm the oil. Put chopped garlic and onion in to fry until golden. Then, add curry powder to fry until your kitchen is scented.
• Add crab and vegetables (red pepper, celery and scallion) to stir fry quickly.
• After crab starts turning pink, add the mixture sauce and keep stir frying for 1 minute to blend everything nicely.
• Add egg to cook in the skillet and keep stir frying.
• Add crab meat and stir frying quickly.
• Remove from the stove. Pour onto a plate and serve hot with steamed jasmine rice
Or 
Wash the crab, remove the shell & internal organs, chop into large pieces, and crack the claws and legs. In a small mixing bowl, combine the milk, beaten egg and chili paste together. Set aside. Heat oil in a frying pan over medium high heat, add garlic saute until fragrant (just a minute or two). Add crab, stir a little bit then add Thai curry powder. Stir well, add water let it cook for 5 minutes. Pour in egg mixture and oyster sauce. Stir quickly until done, about 6-8 minutes (longer depending on how big your crab is). Add greens, stir well. Sprinkle with Thai pepper powder, remove to serving plate. Serve immediately with steamed Thai jasmine rice.