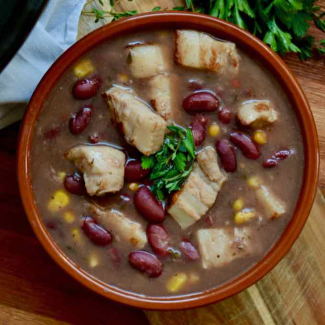 Tchaka, a Haitian bean and corn casserole. Particularly nutritious. The ingredients for the dish are red beans, dried corn and heavily smoked salt-cured pork meat casserole. Although it is easy to prepare tchaka, it takes a lot of time.
Each of those main ingredients have their own cooking time which explains why we prepare them separately. That preparation does not keep you on your toes all day long, however. This dish does not require one to stand by the stove for hours.
However, the secret to a successful tchaka is in the salt-cured pork meat and the simmering, as it is required to simmer it slowly over low heat in order for the flavors to fully develop.
The stew is served hot, preferably with pickles on the side.