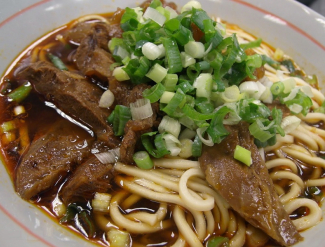 Beef noodle soup is a noodle soup made of stewed or red braised beef, beef broth, vegetables and Chinese noodles. There are many different types of beef noodle soup(牛肉麵). The Taiwanese version of beef noodle soup is now one of the most popular dishes in Taiwan and sometimes is considered a national dish.
The dish was introduced to Taiwan by Kuomintang Sichuan province veterans who fled from mainland China to Kaohsiung, Taiwan and served in military dependents' villages (which had originally a distinct cuisine from the rest of Taiwan). The dish became later more accepted over time. 
When soy sauce is added, the soup is called red roasted or braised beef noodles (紅燒牛肉麵). Braised beef noodle soup was invented in Taiwan and is considered as Taiwanese beef noodle soup. It is sometimes referred to as "Sichuan Beef Noodle Soup" (四川牛肉麵), especially in Taiwan
The Taiwanese variation is significantly less spicy than its Sichuanese predecessor and there are several variations with the soy-based broth, such as tomato, garlic and herbal medicine. The tomato variation (番茄牛肉麵) is popular in Taiwan and features chunks of tomatoes in a rich red-coloured tomato broth with or without soy sauce.[18] The herbal medicine variation is usually served without suancai as a topping (as its acidic properties are believed to exhibit medicinal properties) and may be accompanied by a chili paste made from beef lard.
Read more