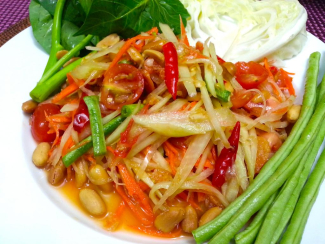 Thai Som tam is a dish of Lao origin but it is also eaten throughout Southeast Asia. Locally known in Cambodia as bok l'hong (Khmer: បុកល្ហុង, pronounced [ɓok lhoŋ]), in Laos as tam som (Lao: ຕໍາສົ້ມ) or the more specific name tam maak hoong (Lao: ຕໍາໝາກຫຸ່ງ, Lao pronunciation: [tàm.ma᷆ːk.hūŋ]).
The dish combines the five main tastes of the local cuisine: sour lime, hot chili, salty, savory fish sauce, and sweetness added by palm sugar. The ingredients are mixed and pounded in a mortar.
In Thailand, it is customary that a customer ask the preparer to make the dish suited to his or her tastes. Traditionally, the local variety of green papaya salad in the streets of Bangkok is very hot due to the addition of a fistful of chopped hot bird's eye chili.
Read more