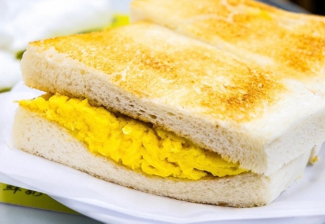 The Hong Kong's Britisch style sandwiches come in many shapes and forms. From the simple butter and condensed milk sandwich, to the traditional, humble scrambled egg sandwich for breakfast that's been perfected over generations. But other different, popular variations of the egg sandwich can also be found  in Hong Kong is the Hong Kong scrambled egg sandwich.
A scrambled egg sandwich is a pretty famous food in Hong Kong. Sometimes this scrambled egg sandwich is accompanied by corned beef, other times with ham, this humble dish is a great takeaway option for those busy, Hong Kong mornings and is typically enjoyed alongside a cup of Hong Kong milk tea or nai cha.
The Hong Kong Chinese  turn a traditional scrambled egg into a delicious, a best egg dish for this tasty, fluffy, buttery egg sandwiches. The bread is toasted to a beautiful light golden colour, while (somes times with the corned beef; the variant is called 蛋牛治)  and egg are generously packed in between. The egg tends to be on the drier side, so if you like it a bit runnier, ask for wat dan (滑蛋), which means "smooth egg" in Cantonese.
A scrambled egg sandwich is not one of the absolute must eat things in this Hong Kong food guide, but if you do have one, you probably won't regret it.
Read more