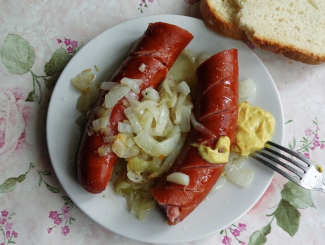 A sausage sizzle is a grilled or barbecued food item( typically the sausages) and community event held in Australia and New Zealand.
A sausage sizzle dish consists of a beef or pork sausage, served on sliced bread with grilled onions and various condiments, most commonly tomato sauce, barbecue sauce or mustard. Sausage sizzles are often served at community events in Australia and New Zealand and have become common features in the cultures of both nations.
The term "sausage sizzle" came into common use in the 1980s and is used to describe either the food item itself, the barbecuing technique or the nature of the event it may be served at.
Sausage sizzles are generally held either as free community events or as fundraisers for charities, schools, sports clubs and other organisations. As such, ingredients and equipment are cheaply purchased or donated by suppliers.