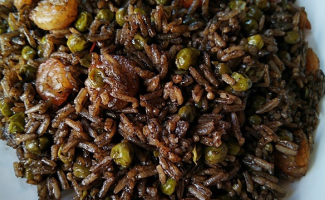 Riz djondjon (Black mushroom rice), commonly known as "black rice", is a native dish of Haiti. It is essentially a meal consisting of rice made with edible black mushrooms called djon djon.The meal is more common in the northern region of the country and therefore can be considered a regional specialty.
The Djon-Djon mushrooms are grown in the northern part of Haiti and sold dried. This type of fungus is mostly used for cooking rice, meat, and poultry in Haiti.  The dish is often served with some sort of meat, whether it be fish, chicken, or shrimp (usually mixed in the rice.
The dish usually cooked on Sunday and on holidays makes the perfect side on the meal table.
Read more