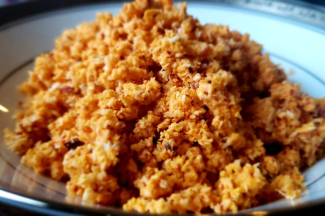 Pol sambol" it's the Sinhalese term and simply means a spicy coconut mixture or condiment. It's one of the most popular Sri Lankan dishes that need to be tried.
It's an essential part if not a key ingredient to Sri Lankan cooking, we use the thick, thin coconut milk to make gravies for our curries and freshly grated coconut is used to make a spicy coconut sambol
The coconut sambol can be served with almost anything from bread, rice and even Sri Lankan pol roti.
Coconut palms grow in abundance on Sri Lanka, and the fruits find their way into just about every meal in some form. Pol Sambol(a) (like all sambols) is a versatile, vivid relish, given an intense hit of flavour from Maldive fish: smoked, sun-dried tuna, flaked and used sparingly.
Read more