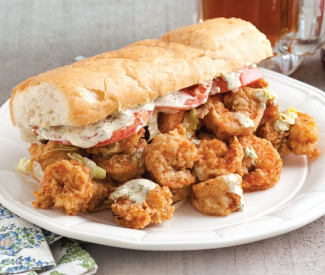 Poboy is a traditional sandwich from New Orleans, USA.  A  po' boy is typically served on French bread and stuffed  originally with roast beef or fried seafood, oftentimes shrimp.
Later, a wide selection of fillings are traditional as long as the "po' boy bread" is used, with roast beef, baked ham, fried shrimp, fried crawfish, fried catfish, Louisiana hot sausage, French fries, fried chicken, alligator, duck, boudin, and rabbit etc. listed among possible ingredients.
Po-boys were originally made by the Martin Brothers, Bennie and Clovis, who moved to New Orleans from Raceland in the mid-1910s. Both brother worked as streetcar conductors untill the early 1920s, when they opened martin Brothers Coffe stand and restaurant in the  French market New Orleans.
Everyone in New Orleans has their favorite po'boy. For some, it's fried oysters; some like grilled hot sausage and for many, it is this - a pot roast stuffed with lots of garlic that's cooked until it's literally falling apart.
Read more