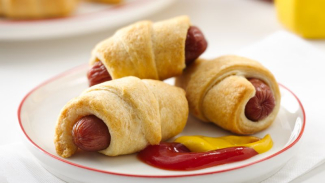 Pigs in a blanket (also pigs in blankets) is a variety of different sausage-based culinary dishes. Smaller versions of the dish are commonly served as an appetizer or hors d'oeuvre, sometimes with a mustard or aioli dipping sauce, or are accompanied by other foods during the main course. Australian style pigs in a blaket are typically sausage rolls or a easoned pork mixture rolled up in puff pastry.
In Australian it is just simple sausage in croissant pastry. Pigs in a Blanket are made with just two ingredients: crescent roll dough and some  sausages. 
In the United Kingdom the term is commonly used for small sausages (usually chipolatas) wrapped in bacon; in the United States it typically refers to hot dogs wrapped in croissant pastry.
The British and Irish pig in a blanket should not be confused with those served in the US. In the UK, they're small, cocktail-sized sausages wrapped in streaky bacon, not the pastry-wrapped sausages served across the pond.
Pigs in blankets are known around the world and  in the UK and Ireland, are traditionally served at the Christmas lunch and often on Boxing Day.
Everyone loves the name of this quaint little dish and what could be easier than wrapping good-quality bacon around a little, tasty cocktail sausage. Children adore the bite-sized sausages and adults equally enjoy them, so always make plenty. They are great on a buffet or party food, a picnic, or in a lunch box. Feel free to vary up the sausages by using different flavors such as leek and onion or caramelized red onion, all of which are easily available in Australia.
Read more