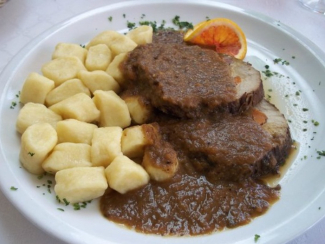 Pašticada is the ultimate dish from the region of Dalmatia.
Traditional Dalmatian pašticada (or Dalmatinska pašticada) is slow-cooked beef prepared in a rich red sweet and sour sauce, usually served with gnocchi (njoki) or homemade pasta.
In its traditional form, this dish can take up to two or three days to make, as the meat is first marinated in a vinegar preparation, then braised slowly with vegetables for 4 to 6 hours. After cooking, the vegetables are blended to make a rather thick sauce.
In Dalmatia, this peasant dish is prepared for important feasts, including weddings and baptisms and it is also a traditional recipe for Mardi Gras  (Mardi Gras, or Fat Tuesday, refers to events of the Carnival celebration, beginning on or after the Christian feasts of the Epiphany and culminating on the day before Ash Wednesday, which is known as Shrove Tuesday).
Read more