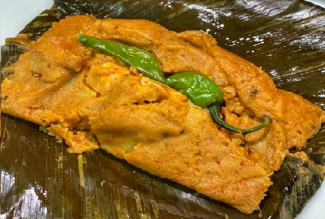 Paches are a typical Guatemalan dish very similar to tamale, but this is made with potato or rice dough. Its origins are from the Guatemalan department of Quetzaltenango. The original recipe has been modified depending on local tastes, which may or may not have chili.
The parches potato variant are  made with seasoned mashed potatoes  that is mixed with achiote powder, allspice, and lard.
When the concoction is prepared, it is then wrapped in banana leaves or corn husks and steamed until it is soft and ready for consumption. In Guatemala, paches is traditionally sold by street vendors on Thursdays, while other types of tamales made with maize dough are prepared on other days of the week.
Since in Quetzaltenango corn tamalitos are eaten to accompany meals, then only those made of corn dough are called tamale, although in other places those made of rice dough are also called tamale, confusing them with those made of maize masa.
In Guatemala City the name parches have been changed to potato tamales, or patches with potato.