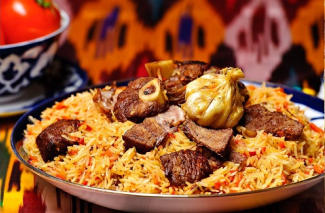 Oshi Palav, a traditional meal and its social and cultural contexts in Tajikistan. And is prepared in all types of social and cultural gatherings. Palav is cooked in different varieties at home and is served also in public restaurants and teahouse.
The dish is prepared from a set of ingredients such as carrot, rice, meat, oil, and onion and additional fragrantspicessuch saffron, cumin, black paper, lemon, including grains such as chickpea.
Oshi palav has three-stage preparation recipe: frying the main ingeminates, preparing zirbak (a both in which rice is cooked), the simmering of the rice. Each of these stages has their own timing and oshi palav is cooked in cast iron pots. In the course of its century long development history oshi palav among Tajik people has evolved different types and varieties that each is unique to the type of additional ingredients used.
Read more