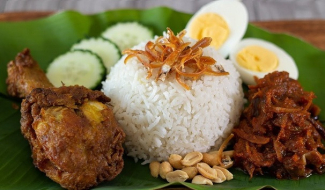 Nasi lemak is the national dish in Malaysia; it is also the native dish in neighbouring areas with significant Malay populations such as Singapore, Brunei, and Southern Thailand. In Indonesia it can be found in several parts of Sumatra; especially Malay realm of Riau, Riau Islands and Medan.Nasi lemak can also be found in the Bangsamoro region of Mindanao prepared by Filipino Moro.
It is considered one of the most famous dishes for a Malay-style breakfast. It is not to be confused with Nasi Dagang, sold in the Malaysian east coast states of Terengganu and Kelantan (and its kindred region in Pattani, Yala and Narathiwat in southern Thailand and Natuna in Indonesia), although both dishes are often served for breakfast. However, because Nasi lemak can be served in a variety of ways, it is often eaten throughout the day.
Nasi lemak is usually served with a hot spicy sauce (sambal), including fresh cucumber slices, small fried anchovies, roasted peanuts and hard-boiled or fried egg. As a more substantial meal, Nasi lemak may also be served with an additional protein dish such as ayam goreng (fried chicken), sambal sotong (cuttlefish in chili), small fried fish, cockles, and on special occasions rendang daging (beef stewed in coconut milk and spices.
Read more