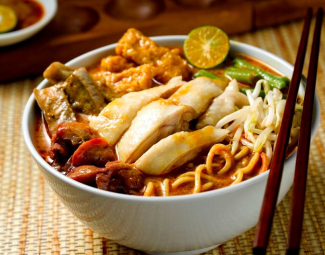 Laksa has different varieties across the region and so various recipes of laksas. The type of Laksa is based upon the soup base employed in its recipe; either rich and savoury coconut milk, fresh and sour asam (tamarind, gelugur or kokum), or the combination of the two.
There are three basic types of Laksa: Curry laksa, Asam laksa, and other variant that can be identified as either Curry or Asam laksa. The both Curry laksa and Asam laksa have also a lot of variations.
Curry laksa is a coconut-based curry soup. The main ingredients for most versions of curry laksa include bean curd puffs, fish sticks, shrimp, and cockles. And the term "curry laksa" is rather more commonly used in Kuala Lumpur and Singapore.
Asam laksa is a sour, fish and tamarind-based soup. Asam is the Malay word for any ingredient that makes a dish taste sour (e.g. tamarind, gelugur or kokum).
The main ingredients for Asam laksa include shredded fish, normally kembung (small mackerel of the Rastrelliger genus), and finely sliced vegetables including cucumber, onions, red chillies, pineapple, lettuce, common mint, daun kesum (Vietnamese mint or laksa mint), and pink bunga kantan (torch ginger).
Several variants might combines both coconut milk and tamarind, fish, chicken, and prawn, thus can be identified as either Curry or Asam laksa.
There are various theories about the origins of Laksa. One theory is about descendants of early Chinese migrants who settled in Penang, Malacca, Singapore and Indonesia, inter-marrying with local Malays. They formed mixed-race communities called the Peranakans or Straits Chinese. And Laksa is a dish of Peranakans.
In Malaysia, the dish is believed to have been introduced by Chinese immigrants in Malacca.
In Singapore, the dish (or its local "Katong" version) is believed to have been created after interaction between the Peranakans with the local Singaporeans.
Read more