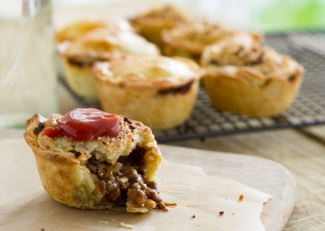 An Australian or New Zealand meat pie is a hand-sized meat pie containing diced or minced meat and gravy, sometimes with onion, mushrooms, or cheese and often consumed as a takeaway food snack. There is in Australia a variant of meat pie called party pies. It is, in fact the Aussie mini beef pies.
The classic meat pie recipe uses ground or minced beef, but some families and bakery use chunky beef for  maybe a better flavour. They make ofent the filling a day in advance.
While the classic Aussie pie is just pastry, meat and gravy, in New Zealand these ingredients are often supplemented by cheese.  The classic Aussie meat pie should has a golden flaky pastry crust housing a perfectly rich beefy filling.
The meat pie is considered iconic in Australia and New Zealand. New Zealanders regard the meat pie as a part of New Zealand cuisine, and it forms part of the New Zealand national identity.  On othe hand it is also pretty much a symbol of Australian cuisine. Australians do meat pies and chiko rolls at sporting events, but they don't do hot dogs.
Read more