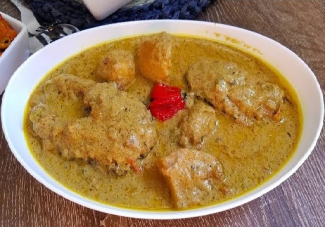 Mtuzi wa samaki is a tasty fish curry dish that originated on the tiny island of Zanzibar. The presence of Indian-style curries in Zanzibar's cuisine is evidence of its history as a crossroads of trade. Over time, mtuzi wa samaki has become popular throughout the coastal region of East Africa.
Samaki is the Swahili word for fish and mchuzi means curry (or gravy, sauce, soup). The dish is consisting of fish that is cooked in a combination of onions, oil, garlic, curry powder, tomatoes, water, and lemon juice. It is often additionally flavored with freshly chopped coriander.
The dish is served tradionally  with rice, ugali, boiled potatoes, boiled cassava or chapati.
Read more