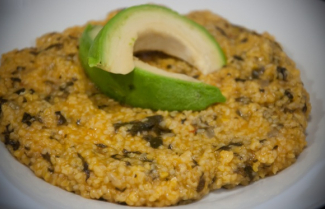 Mayi moulen is a preparation originating from Haiti based on ground corn similar to Italian polenta. In Haitian Creole, mayi moulen simply means ground corn. There are different  variants or Mayi Moulen dish.
Mayi Moulen ak Sòs Pwa, Poul an Sòs is the name for cornmeal cooked with beans and stewed chicken and served with with sòs pwa nwa (black bean puree), mori (salt fish ) or more other foods . Stews, in general, are a common dish in Haiti and usually served over cornmeal or rice.
This particular hearty dish is flavored with sweet spices such as cloves and star anise that make Haitian cuisine memorable. Street food stands offer varieties of stew that are excellent and affordable.
Mayi Moulen Kole ak Legim is a dish of cornmeal, beans, and a vegetable stew. In the tradition of hearty Haitian stews, this vegetarian offering can also be found at street food stands. The consistency of the cornmeal is somewhere between polenta and cream of cornmeal. This dish is so popular in some sectors that diners must order it early before vendors run out.