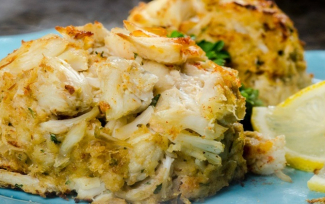 Crab cakes are a variety of fishcakes popular in the United States. They are composed of crab meat and various other ingredients, such as bread crumbs, mayonnaise, mustard eggs, and seasonings, particularly the cake is then sautéed, baked, grilled, deep fried, or broiled, and then served.
Flavored with fresh herbs, lemon, and a hint of hot sauce, and coated with crunchy panko breadcrumbs, Maryland crabcakes truly live up to their name. The tangy and crisp slaw is a fantastic accompaniment to this dish, or any type of fried seafood.
Crab cakes are traditionally associated with the area surrounding the Chesapeake Bay, in particular the states of Maryland and Virginia.
Crab cakes are particularly popular along the coast of the Mid-Atlantic and South Atlantic states, where the crabbing industry thrives. The earliest use of the term "Crab cake" dates to Crosby Gaige's New York World's Fair Cook Book in which they are described as "Baltimore crab cakes".They can also be commonly found in New England, the Gulf Coast, the Pacific Northwest, and the Northern California coast. While meat from any species of crab may be used, the blue crab, whose native habitat includes the Chesapeake Bay, is the traditional choice and generally considered to be the best tasting. In the Pacific Northwest and Northern California, the Dungeness Crab is a popular ingredient for crab cakes, and the cakes are prepared at many restaurants throughout the region.
Many restaurants and fish markets advertise their crab cake product as "Maryland Crab Cake" or "Maryland-Style" crab cake, which implies the crabmeat is the domestically-sourced Blue Crab; however, it is a widespread practice to substitute cheaper Blue Swimmer Crab, which is imported, usually from Asia. The foreign product is often harvested using methods and practices that would be considered unsustainable in the United States, where the crabbing industry is carefully regulated to ensure sustainability.
Read more