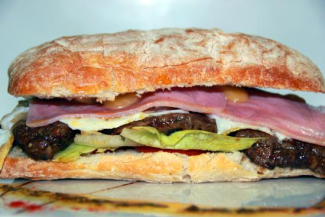 Argentina knows beef. And Argentines know how to make it more delicious than it has a right to be. This ravishing beast of an Argentine steak sandwich  Lomito is their go-to street snack.
A basic lomito generally includes steak, lettuce and tomato, but make it a completo and you'll get a sandwich with the works: ham, cheese and a fried egg on top.
While the lomito can be found at restaurants and street carts, it's also easy to make at home. So, if you're looking for something a bit more substantial than the typical American burger, throw together a satisfying Argentnian lomito completo. You can also serve the lomito as a platter without the bread, if desired. Just don't forget the french fries!
Read more