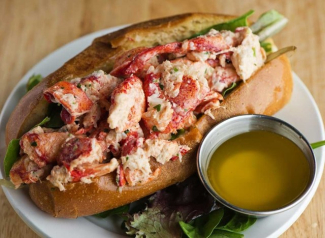 Lobster rolls is a favorite meal of New England classic summer feast, as well in Canada Maritimes
Just a few ingredients: large chunks of lobster, mayonnaise, and celery, stuffed into a grilled hot dog bun and eaten on a dock near water on a sparkling day! That's the essence of summer here, with or without the dock.
A classic meal here in New England is the Lobster Roll!  Although the original Maine lobster roll is simply cooked lobster meat and melted butter on a buttered and grilled hot dog roll, most restaurants make a New England lobster roll with a lobster salad made with a mayonnaise base.  Today's recipe is our version of the classic New England lobster roll similar to those served in local area restaurants.
Read more