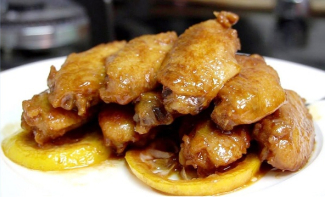 Hong Kong style lemon chicken wings is a very popular home-cooked dish in Hong Kong made with chicken wings, lemon, ginger, a little soy sauce and honey or  Chinese brown slab sugar(peen tong or pian tang /Chinese: 片糖).
Lemon chicken wings were once a popular dish in a certain cooking TV show in Hong Kong. As a result, the price of lemons has risen wildly, and even sold out. The chicken wings made with lemon, the sweet and sour taste is appetizing. The delicious Chinese Hong Kong style lemon chicken wings recipe that's packed with garlicky lemon flavor and mellowed out with a touch of honey. This lemon chicken recipe is a traditional Chinese restaurant recipe in Hong Kong and at the same time a homemade, one of the familiy's favorite chicken recipes.
The cooking process of the lemon chicken wings in Hong Kong is to braise the marinated chiken wings until the soy sauce and honey, lemon juice  mixture get dry, and the chicken wings coated with a thin layer of sauce. While the Western cooks or housewifes bake the marinated chiken wings, make the sauce then  toss the hot wings in the sauce and serve.
For this lemon chicken wings, normally the Chinese cooks don't use garlic at all.
There is a variant of this make with lightly battered chicken meat, pan-fried until crispy, then pour the  sweet and sour taste lemon-honey sauce on the cunchy frien chicken.
Read more