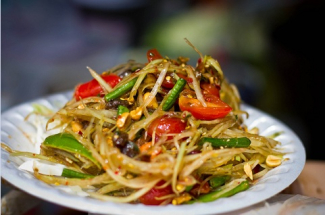 Green papaya salad is a spicy salad made from shredded unripe papaya. Originating from ethnic Lao people, it is also eaten throughout Southeast Asia. Locally known in Cambodia as bok l'hong, in Laos as tam som, or the more specific name tam maak hoong, in Thailand as som tam, and in Vietnam as gỏi đu đủ.
The Vietnamese variant og papaya salad in more simply to prepared than the varieties in the neighbours countries. It consistd of shredded unripe papaya but not quite green, boiled small sized shrimps, boilded pork with skin and the Vietnamese coriander (laksa leaves), as well sweet, spicy fish sauce with choped chilli peppers and garlic.
In Laos, green papaya salad is one of the traditional staples of the Lao. Pounded salads in Laos all fall under the parent category of tam som, which may or may not contain green papaya, however, when no specific type of tam som is mentioned, it is generally understood to refer to green papaya salad. For absolute clarity, however, the name Tam maak hoong (Lao: ຕໍາໝາກຫຸ່ງ may be used, since this name means "pounded papaya".
Read more