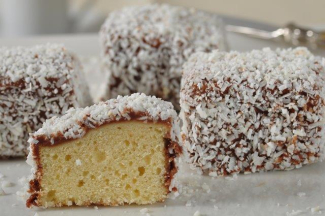 A lamington is an Australian cake made from squares of butter cake or sponge cake coated in an outer layer of chocolate sauce and rolled in desiccated coconut. Lamingtons are a very popular  and often served as snack or dessert.
Lamingtons are believed to be named after either Lord Lamington, who served as Governor of Queensland from 1896 to 1901, or his wife, Lady Lamington. Most sources incline to the former. The earliest known reference to the naming of the lamington, from June 1927, links the cake to Lord Lamington.
Lamingtons remain a popular treat across Australia and New Zealand, and 21 July was designated as National Lamington Day in Australia. Lamingtons are often sold at fundraisers for schools or charity groups, known as "lamington drives". Some Australians shorten the name to "Lammo" (singular) or "Lammos" (plural).
Read more