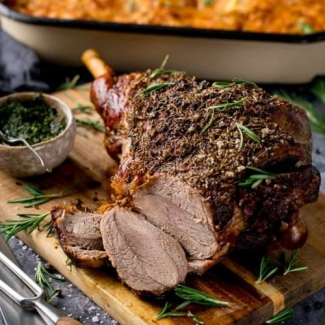 Sheep farming has been a symbol of Kiwi culture since the late 1850's. Roast lamb is the national dish of New Zealand and was a quintessential part of New Zealand Sunday dinners for much of the country's history.
New Zealand and lamb have close ties in history. Lamb, hogget, and mutton, generically sheep meat is the most favorite food of New Zealand cuisine, far more than beef and pork.
There are thus many dishes with ingredient sheep meat, like this herb crusted leg of lamb is a dilicous dish of New Zealand' cusine  the perfect recipe for a dinner party. The taste  of the dish is impressive, and it's delicious and easy to make! Or  a similar dish, roast leg of lamb with flavors of garlic and thyme. All the representative of New Zealand
New Zealand is an ideal place to produce pure, authentic, delicious lamb. In general, New Zealand lamb is grazed on some of the world's most fertile pastures and is 100% grass fed and grass-finished by family farmers and ranchers. The temperate, subtropical climate, ample rainfall, and emerald-green pastures produce lamb with classic flavor. A nature-intended stress-free environment creates exceptionally succulent, tender meat with exceptional tenderness.
Read more