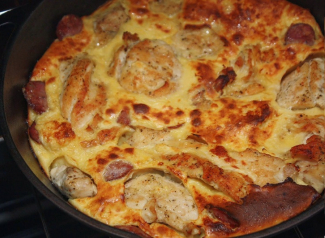 Kvrguša  is a traditional Bosnian dish. The dish comes from the Bosanska Krajina region,Bosnia. but it is also commonly prepared and enjoyed in other regions. The base of kvrguša is prepared with a combination of flour, eggs, and milk, and it closely resembles another Bosnian delicacy called kljukuša—a pie-like dish served torn into small bite-size pieces.
The combination of flour and milk is poured into round pans, and the dish is finished off with the addition of various raw or previously fried chicken cuts, such as thighs and legs, which are placed on the top. The pie is slowly baked until the meat is done and the dough develops a golden, crispy crust.
Immediately after baking, kvrguša is topped with sour or clotted cream.
Read more