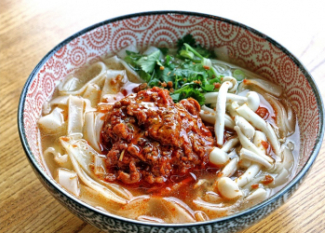 Khao soi is a Chin Haw dish served widely in Laos, Myanmar and northern Thailand.Though northern Laotians have a special way of preparing this dish, different versions of it can be found at Lao restaurants.
In Thailand or Northern Thai Khao soi is made with a mix of deep-fried crispy egg noodles and boiled egg noodles, pickled mustard greens, shallots, lime, ground chillies fried in oil, and meat in a curry-like sauce containing coconut milk.
But there are also different variants of Khao soi that are made without any coconut milk and with rice noodles instead of egg noodles are mainly eaten in the eastern half of northern Thailand.
Traditionally, the dough for the rice noodles is spread out on a cloth stretched over boiling water. After steaming the large sheet noodle is then rolled and cut with scissors. So it has the name means 'cut rice', actually 'cut noodle' . Lao khao soi is still made with the traditional noodles, and in some markets in Luang Namtha and Muang Sing vendors still cut the noodles. These traditionally cut noodles can also be found in several places in northern Thailand.
Read more