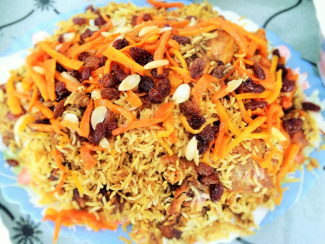 Kabuli palaw -Qabuli palaw (Persian: کابلی پلو) or qabili palaw (قابلی پلو), Afghan rice and lamb pilaf is a traditional dish in Afghanistan and one of most favorite ones among Afghans. Unlike its variety in India, the Biryani, Kabuli pulao is not spicy and has a less competing, spicy flavors for some eaters.
It exists different variations depending on the region. Kabuli Pulao is not a one-step one and done dish, but requires a few steps to prepare.
You are going to separate the dish into four cooking areas: topping, meat, rice, and broth. When all four of those elements are made correctly and flavorful your end result can't be anything but delicious.
Kabuli palaw is considered a festive and important dish due to the price and quality of the ingredients as well as its tradition of being Afghanistan's national cuisine. The dish is traditionally placed in the center of the meal with other foods making up the rest of the perimeter.
Read more