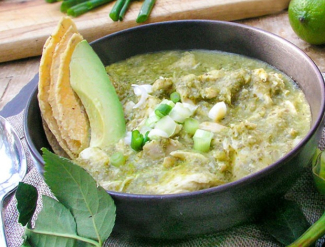 Guatemalan Green Chicken Stew is more commonly known as chicken stew with tomatillos or "pollo en jocon."
 This jocón or pollo en jocón is a dish popular with the Mayan population of Guatemala. Chicken meat  is simmered in a tasty sauce tinted a beautiful green by tomatillos and cilantro and thickened with ground sesame and pumpkin seeds and corn tortillas.
The dish is one of the easiest Guatemalan food recipes to make. It's so economical it's perfect as an everyday dinner yet special enough to be a guaranteed crowd pleaser when entertaining.