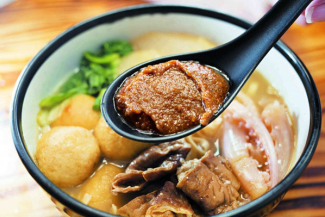 Hong Kong Rickshaw Noodles, a popular favourite in Hong Kong in the 1960s, originally sold as cart noodles in street corners ,in public housing estates and in low-income districts to people from all walks of life. The street vendors were immigrants arriving from mainland China during the 1950s.
Cart noodles is typically based upon the diner choosing various ingredients they would like, including the type of noodles, various soup broths, and toppings. Examples of types of noodles and toppings, which may vary considerably from stall to stall.
Mostly the street vendors have vanished after 1990s but the name and style of noodle endures as a cultural icon in Hong Kong. The name and style of the noodle endures, and remain widely available in low- to mid-end eateries. Now one can find the Rickshaw Noodles at most Kong Kong staples and street food eateries. The price may vary depending on the combination of ingredients, or type of establishments. On the contrary, because the noodle is now defined by its retro style, it can sometimes be found in higher-end establishments, at noble restaurants. It may offer costlier types of ingredients at a higher price.
Read more