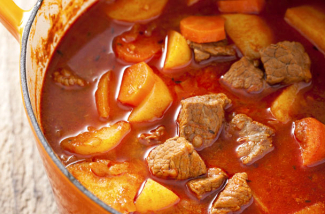 Ingredients
½ cup corn oil or lard
3 onions, finely chopped
4 Tbsp sweet Hungarian paprika
¼ cup white vinegar
6 clove garlic, finely chopped
2 Tbsp marjoram
1 Tbsp caraway seeds, ground
salt and pepper to taste
6 cup water
2 lb(s) stewing beef, cut into 1-inch cubes
4 Tbsp flour
How to cook
1. Melt lard/corn oil in a large casserole dish.
2. Add onions and fry gently until soft and golden.
3. Remove from heat and add paprika, vinegar, garlic, marjoram, caraway, salt & pepper.
4. Add 5 cups water and cubed beef, stir well.
5. Bring to a boil and simmer for about 45 minutes or until meat is tender.
6. Mix flour with 1 cup water and stir slowly into the goulash while stirring
7. Simmer for another 10 minutes.
8. Best served with boiled potatoes or spaetzle.