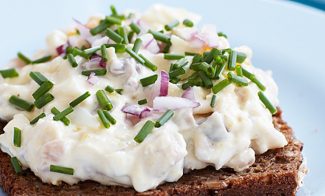 Gubbröra, or Gentleman's Delight, is a traditional Swedish dish which is great served as a canapé or light lunch.
And there's a Swedish saying that can be translated into "a dear child has many names" (kärt barn har många namn). Some "dear children" seem to have a rather unnecessary amount of names—and gubbröra is one of them.
How many names can a simple egg and sprats salad deserve, anyway?
In the newspaper Svenska Dagbladet in March 1923, a reader writes about this dish, considering it "a familiar and generally appreciated dish on smörgåsbordet… whether it is followed by a shot [snaps] or not". The reader, called C., has gathered 13 different names of the salad and asks whether there are any more.
Read more
Ingredients
To serve 4 as a starter, 8-10 as canapés
Ingredients:
3-4 hard boiled eggs
1 red onion
1.5 tbsp butter
125 g anchovies
3 tbsp chopped parsley


How to cook
Finely chop eggs, anchovies and onions. Melt butter and fry onions until golden brown.
Add anchovies, fry gently for a couple of minutes.
Gently stir in eggs and heat through. The ingredients must not be mashed! Then sprinkle parsley over, serve warm with crispbread.