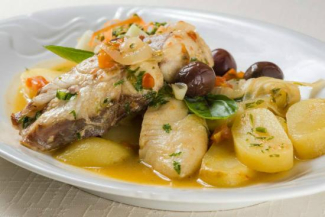 Hvarska Gregada is Croatian fish & potato stew from the island of Hvar is definitely a "vintage" dish of Dalmatian cuisine .
This simple fish stew with potatoes is said to be the oldest way of preparing fish in Dalmatia and was probably brought to the area by Greek settlers more than 2000 years ago, although potatoes are a local modification because they were introduced considerably later.
Traditionally, the dish is made by layering together thinly sliced potatoes and onions which are then drizzled with olive oil, topped with smaller white saltwater fish, and cooked in just enough water and white wine to cover the fish—usually with the addition of parsley, celery, and garlic, whereas modern recipes often include ingredients such as capers and salted anchovies.
Read more