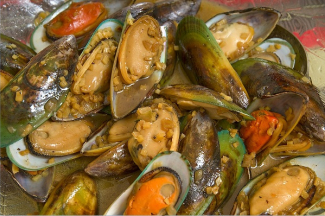 The green-lipped mussel — also known as the New Zealand mussel — is a shellfish native to New Zealand. The mussel has been  a staple food of the indigenous Māori people of New Zealand's coasts. They just boil or grill them in open fire.
When white settlers arrived from Europe, they brought new method of cooking with and new recipes. Simply grilled on the BBQ with added herbs and spices is a traditional prepareation of this seafood.
Today, there are not few delicous dishes of green-lipped mussel in New Zealand's cusine. Garlic butter broiled mussels,mussels steamed in wine and garlic and more.
Mussels are delicious steamed or simmered in soups or sauces, when they open wide, they're ready to eat.  One of the classic method is to sauté aromatics (like garlic and onion) in butter, add mussels, wine and cover to steam, cooking the mussels and creating an amazing sauce at the same time.
Read more