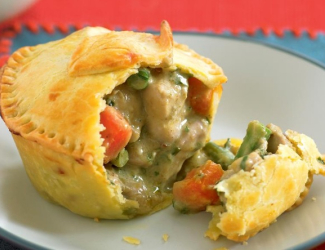 Green chicken curry pie is traditional savory pie from Australia. The pie is filled with chicken curry prepared with vegetables such as pumpkin, spinach, and green beans, chicken pieces, green curry paste, coconut milk, and finely chopped coriander.
Australians love Thai food. They also love pies (a lot). Put a Thai chicken green curry inside a pie casing and you get the Aussie variant of a green curry and a chicken curry pie
These pies are made with the finest ingredients, including organic Queensland chicken fillets combined with delicious organic vegetable seasoned sauces and topped with crisp, flaky pastry.
A chicken curry pie recipe is nowhere near as popular back home in Australia where the classic meat pie rules in country's peas.