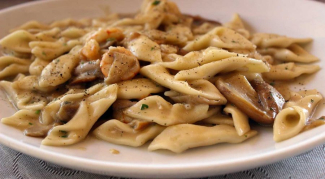 Fuzi is a quill-shaped homemade pasta in a diamond shape typical for Istria. Along with pljukanci, a spindle-shaped pasta, it's the most popular homemade and hand-rolled pasta in Istria. This yummy pasta you can taste in many Istrian restaurants.
When it comes to the Croatian region of Istria, fuži are its most famous pasta. Even though they are mostly prepared in Istria, today, there are manufacturers which make different types of pasta and fuži are one of them, so they can be bought and then prepared in the entire country of Croatia.
This simple pasta dish can be made with fresh pasta or dried, but go the extra mile, dust off the pasta maker and crank out some of your own. To make the pasta dough, place the flour, egg and egg yolks in a food processor and pulse until a dough forms (add a drop of water to bring it together, if needed). Form it into a disc, cover with cling film and set aside in the fridge until you are ready to cook it.
Set the rollers of your pasta machine to the widest setting. Split the dough in half and roughly knead into an oval. Roll the pasta through the rollers three or four times on each setting until you get to the thinnest one.
When the pasta is as thin as you can get it, lay it out on a work surface dusted with semolina.
Cut the pasta into manageable-sized sheets and leave under a damp cloth so they don't dry out. Next cut these sheets into 5cm squares. Have a cup of water to hand and, using a brush, dampen two points of the square, then roll one towards the other over a chopstick or firm straw, to create the fuzi pasta shape. Place the finished pasta on a plate and repeat with the remaining dough.
Read more