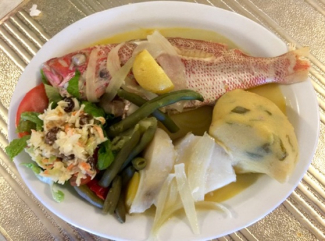 Fungi (pronounced foon-JEE), a cooked yellow cornmeal mixture dotted with tender okra and thinned with chunks of butter, is a staple on dinner tables and was once a fixture on restaurant menus across the Virgin Islands.
The dish people of certain generation in both the British and U.S. ­Virgin Islands, as well as nearby Antigua and Anguilla is boiled fish and funge with Carnival Creole sauce. The fish that often served in this dish is red snappe but other variety like parrotfish or kig fish steak may be paired with it.
Most native Virgin Islanders fondly remember fungi as a part of their childhoods, and as a key element of fish and fungi, a common meal.
But it is hard to find at newer restaurants in Virgin Islands nowady , leaving institutions like Petite Pump Room, De' Coal Pot on the east side of the island and Gladys' Cafe in Charlotte Amalie to keep the dish alive on their menus.
Read more