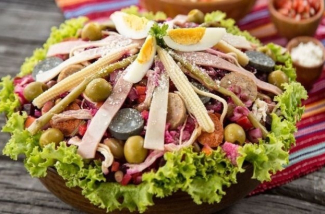 Fiambre is a traditional Guatemalan cold salad that is prepared and consumed annually to celebrate the Day of the Dead (Día de los Muertos on November 2nd) and All Saints Day (Día de Todos los Santos on November 1st).
This dish varies from family to family, recipes traditionally passed on to younger generations. Because of this, on the Day of The Dead, it is customary to share your fiambre with other families and relatives. The Fiambre Guatemalan Salad is truly the mother of all salads.
Traditionally people visit the cemetery bringing flowers, incense and fiambre to their dead. Today this dish is mostly shared at home in a more private celebration that includes family and close friends. Each family has their own recipe for fiambre which is usually passed on from generation to generation. There are different kinds: white, red and divoriciado in which all the ingredients are left separated and each person picks what they want.
Fiambre must be prepared at least one day before serving and marinated in a sauce which consists of a blend of vinegar and other ingredients called the caldillo. This particular recipe is of fiambre rojo , which gets it's red color from beets and it's very similar to the one my grandmother used to make.