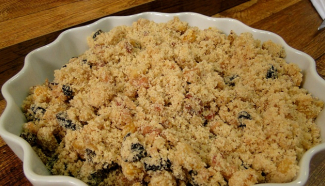 Farofa is a toasted manioc (or sometimes maize) flour mixture and it's served as a side dish for meats, beans, feijoada (black bean stew) and, during the holidays, to stuff poultry.
Manioc flour can be found in Brazilian stores. It resembles a light bread crumb, but do not confuse it with tapioca flour or starch. Once toasted in fat — here, bacon, but other kinds may be used — the manioc flour can serve as a crisp topping to the feijoada, or served alongside to soak up the juices. Farofa is a delicious accompaniment to many Brazilian dishes, especially the classic black bean stew feijoada .
There are lots of different ways to make Farofa, especially depending on the region. Ingredients like eggs, banana, collard greens, carne seca (a type of jerked beef) and herbs are used for some of the varieties of this tasty dish. The secret to a good Farofa is always butter, lots of butter. So if you're afraid of butter, this is not the recipe for you!
Read more