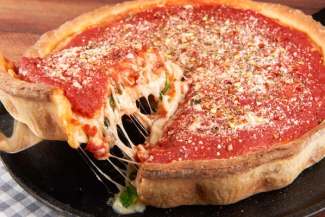 Deep dish pizza recipe is Chicago style American pizza.
The primary difference between deep-dish pizza and most other forms of  Italian pizza is that, as the name suggests, the crust is very deep, creating a very thick pizza that resembles a pie more than a flatbread. Although the entire pizza is very thick, in traditional Chicago-style deep-dish pizzas the crust itself is thin to medium in thickness.
The pan in which it is baked gives the pizza its characteristically high edge which provides ample space for large amounts of cheese and a chunky tomato sauce.
The pan is oiled to allow for easy removal as well as to create a fried effect on the outside of the crust. In addition to ordinary wheat flour, the pizza dough may contain cornmeal, semolina, or food coloring, giving the crust a distinctly yellowish tone. The dough is pressed up onto the sides of the pan, forming a bowl for a very thick layer of toppings.
The thick layer of toppings used in deep-dish pizza requires a longer baking time (typically 30-45 minutes), which could burn cheese or other toppings if they were used as the top layer of the pizza.
Because of this, the toppings are assembled "upside-down" from their usual order on a pizza. The crust is covered with cheese (generally sliced mozzarella), followed by various meat options such as pepperoni or sausage, the latter of which sometimes is in a solid patty-like layer. Other toppings such as onions, mushrooms, and bell peppers are then also used.
Read more