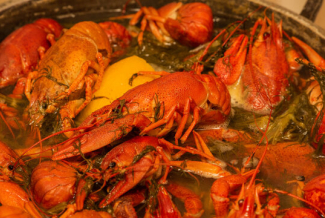 Paranephrops is a genus of freshwater crayfish found only in New Zealand. They are known by the English common names freshwater crayfish and koura. the latter from their Māori name of kōura.
The two species are the northern koura, Paranephrops planifrons, found mainly in the North Island, but also in Marlborough, Nelson, and the West Coast of the South Island, and the southern koura, Paranephrops zealandicus, found only in the eastern and southern of the South Island and on Stewart Island/Rakiura. Both species are a traditional food for Māori, and a small koura aquaculture industry supplies the restaurant market.
Popularly known as crays, crayfish resemble lobsters but lack the lobster's large crushing pincers on their first pair of walking legs. Preferring rocky areas and deep sea beds, crayfish are found in coastal areas of New Zealand, and are especially abundant in Kaikōura. Creamy and rich, crayfish are a delicacy and often feature on the dinner table during the Christmas break or other special events. And the best place to indulge is in Kaikoura, a town in Maori means "eat crayfish!"
Crayfish dishes are very popular in New Zealand, prepared  in many recipes  like Crayfish tails with garlic butter, crayfish roll combine the chopped crayfish meat with mayonnaise, celery salt, pepper and the juice from one lemon cheek.
New Zealand's seafood is world famous.  Besisdes the rich crayfish,  there are succulent king salmon and tasty green-lipped mussels, whitebait, paua (abalone) and king salmon.
New Zealand accounts for over half of the world's production of king salmon. Of all salmon species, the king salmon offers the highest natural oil content of Omega-3s which benefit both heart and joint health. Salmon strive in the cold waters of Mt Cook (Aoraki), Wānaka and Akaroa. Sold whole, in fillets or sliced, king salmon flesh is delicate yet rich in flavour. Try it smoked, grilled or raw.
Pāua is a popular New Zealand delicacy. The dark green pāua meat is encased in a palm sized thick oval shaped shell. The inside of the shell reveals swirls of bright purple, green and yellow. Imitation pāua shell jewelry can be purchased from gift shops in New Zealand. The most common way to eat pāua is in a fritter or cooked in a buttery creamy chowder, served with rewena bread. The meat is often minced due to it's chewy texture. Pāua fritters can be purchased from most 'fish and chip' shops around the country.
A local Kiwi favourite, scallops are a must to try when in New Zealand. They are in season during July through to February. Scallops can be found in most places in the country but prefer the warmer waters of The Coromandel and Northland. They live in the mudbanks of sheltered bays. Featured in entrees, the scallop is often served with the roe on (the orange flesh). The flavoursome sweetness of the New Zealand scallop, means cooking them in butter is often all that's needed.
Bluff oysters, green-lipped mussels, scallops, crayfish (lobster), whitebait (for New Zealand's whitebait fritters), paua (abalone) and New Zealand shellfish like tuatua and pipis are some of the best and freshest seafood in the world from New Zealand.
Try steamed green-lipped mussels from the Marlborough region of South Island New Zealand. This bright green lip and dark green shell shellfish is a local delicacy and pairs well with Marlborough Sauvignon Blanc.
The briny and sweet Bluff oysters are a must for those who love raw oysters. Though you can find Bluff oysters served throughout New Zealand, the best place to savor the freshest is in Bluff, a seaside town in the southernmost region of New Zealand.
Read more