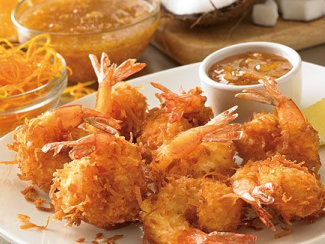 Coconut shrimp is very popular in the Caribbean, especailly it is a favourite dish in Cayman island's cuisine.
Crunchy coconut shrimp is typically prepared using shrimp that are coated with flour, placed in an egg wash, coated with a flaked coconut and bread crumb mix, and then deep fried. The shrimp can be butterflied prior to being coated. Panko bread crumbs or standard bread crumbs can be used, as can a mixture of both. Chopped nuts such as macadamia and almond can be used as additional ingredients to coat the shrimp.
You've probably sampled coconut crusted shrimp with a basket of fries at your local pub or nearly any chain restaurant, but you haven't really tasted it until you have coconut shrimp in Grand Cayman. There's simply no substitute for fresh coconut shaved that day, and you'll be surprised at the nutty, delicate flavor.
Coconut shrimp is also prepared as a sautéed or stir-fried dish using coconut milk as an ingredient.[13] This version of the dish may be served atop rice. Additional ingredients can include onion, garlic, tomatoes, parsley, and various spices.
Read more