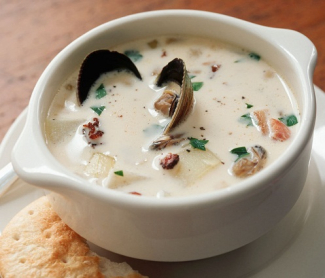 Clam chowder is any of several chowder soups in American cuisine containing clams. In addition to clams, common ingredients include diced potatoes, salt pork, and onions. Other vegetables are not typically used. It is believed that clams were used in chowder because of the relative ease of harvesting them. Clam chowder is usually served with saltine crackers or small, hexagonal oyster crackers.
The dish originated in the Eastern United States, but is now commonly served in restaurants throughout the country. Many regional variations exist, but the three most prevalent are New England or "white" clam chowder, which includes milk or cream, Manhattan or "red" clam chowder, which includes tomatoes, and Rhode Island or "clear" clam chowder, which omits both. New England or "white" clam chowderis the most popular variety of clam chowder.
Most basic recipes for clam chowder call for rendering down some form of salted pork (bacon or salt pork usually), sweating onions and celery in the rendered fat, a touch of flour, followed by milk, potatoes, chopped, and occasionally bottled clam juice. It all gets simmered together with a bay leaf or two until the potatoes are cooked and the broth is thickened. It gets finished with a bit of cream, or perhaps some half and half.