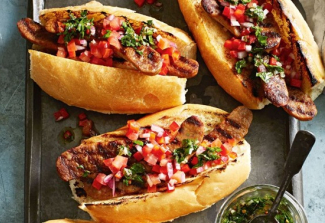 Choripan is a traditional Argentinean appetizer or snack, and  a popular Argentinian street food sandwich consisting of grilled chorizo on bread topped with chimichurri sauce on the bread. This flavorful chorizo sandwich, also called chori for short, is popular in many Latin American countries and is a must have for an asado or BBQ.
Choripanes are commonly served as an appetizer during the preparation of an asado, but they are also very commonly sold at sport venues (particularly football games) and on the sides of roads and streets in major cities in Argentina. Taxi cab drivers in Buenos Aires are avid consumers and some street sellers can gather a long line of cabs during lunch time and afternoons when drivers get their lunch break.
A variant of choripán called morcipán, made with morcilla (blood sausage), is popular in the Río de la Plata region.
There are also many versions of choripán in Brazil, Chile, Uruguay and in the USA.
Read more