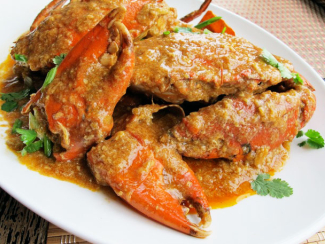 There are not much dishes which originate from Singapore. Singaporean cusine is actually a mixture of cuisines of people from India, Malaysia and China. 
Heralded as Singapore's "national dish", Hainanese chicken rice is one of the local but also original Chinese dish.
Nevertheless there are a few very sucessful creations, Black pepper crab is one of them, the Chill Crab is the other quintessential dish.
And Chilli crab has been promoted by the Singapore Tourism Board as one of Singapore's national dishes, and can be found in seafood restaurants all over the island. It is traditionally eaten with bare hands as a means to savour the juicy crab meat with its sweet and spicy chilli sauce.
Read more